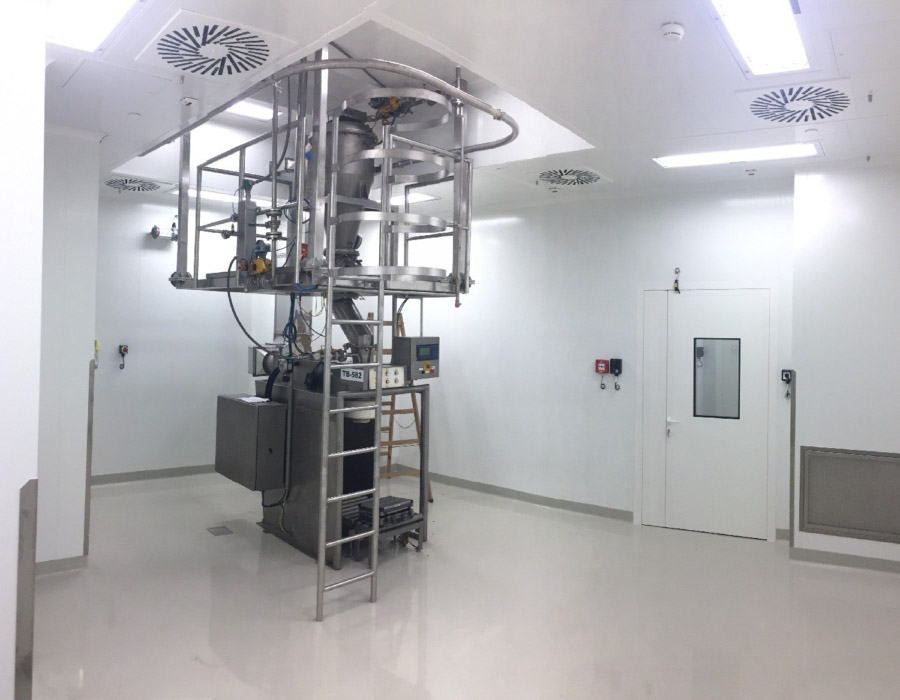 In only 3 weeks our team has turned a part of Pliva's manufacturing plant (Savski Marof) into C and D class cleanrooms.   
Cleanrooms are highly challenging projects which, due to their complexity, demand specific know-how and technology to properly isolate the space from external detrimental impacts.
The project was implemented in two phases:
Phase one
All works outside the facility which did not affect manufacturing process directly.
Delivery and installation of air-conditioning chambers, external ventilation distribution and work in the engine room.
Phase two – all work within the manufacturing plant
Cleanroom systems pose specific challenges for all professions taking part in the project. Mechanical, electrical, construction works and equipment in cleanrooms are very different from works and equipment in standard rooms.
We reconstructed the packaging area in the multipurpose synthesis (MPS) facility. We turned manufacturing premises into class C cleanrooms (EU GMP) for finalisation of nonsterile API for parenteral use and into class D cleanrooms (EU GMP) for finalisation of nonsterile API for oral use.
We reconstructed the existing ventilation system upgrading it with the K31 air-conditioning chamber of total capacity 18.950/17.050 m3/h and the appertaining channel- and peripheral equipment designed for installation in cleanrooms.
In addition to main project activities, we also worked on other activities such as the heat and cooling power supply, reconstruction of the sprinkler network and installation of equipment designed for cleanrooms. As for construction work, we added Cleanroom panels on the walls and ceilings, as well as epoxy flooring. We also built in a special Cleanroom door.
We reconstructed the draining system and did electrical and MUR work necessary for the control and maintenance of desirable atmospheric conditions, pressure and temperature in cleanrooms.
Before cleanroom inauguration, all systems were fully validated to make sure they were fully functional.